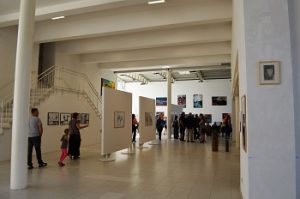 Time passed quickly for the students of the part-time art degree at the EKA (European Academy of Art Trier). After only three short years the new graduates launched their exhibition today, the 9th of September. The director of the school, Dr. Gabriele Lohrberg, and two of the tutors who led the program (Silke Brösskamp and Prof. Eva-Maria Kollischan) gave the initial speeches to mark the official opening.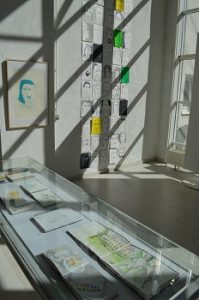 The exhibition is currently taking place within the premises of the EKA, a former slaughter house. It was re-modelled 31 years ago to house the current art school. The main hall is spacious, bright, and has a high ceiling, which makes for an excellent space to display paintings and drawings. The only downside to the high ceilings proved to be the unfortunate acoustics. They made the speeches difficult to hear. Nevertheless, this doesn't detract from the experience itself!
The space is now home to an alluring mixture of styles and subjects, each individual to the eight artists. Despite the distinct individuality, there are recurring themes which explore environmental issues, travel and animals.
If you are in or around Trier between the 9th and the 23rd of September (2018) do not miss this exhibition! It is well worth it. Their opening hours are Tue-Sun, 11am – 5pm.
Kunsthalle der Europäischen Kunstakademie
Aachener Str. 63, 54294 Trier
punktlandung.eka-trier.de